Activities and Excursions
* * * * * Nature ~ with benefits * * * * *
SunLund Resort staff will be happy to connect you with our preferred activity providers.
Guests of Sunlund will receive a discount code to use for booking their tours directly, which gives you the most control to book what you like, when you want!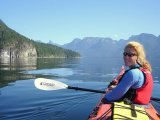 Terracentric Coastal Adventures offers guided day and overnight kayak tours, boat tours and sea kayak rentals all within walking distance (less than 5 minutes) of Sunlund.
Footprint Nature Explorations offers guided day and overnight kayak tours which launch from Okeover Inlet a short 10 minute drive away.
Guided Kayaking Day Tour with Footprint Nature Explorations

Embark on a guided 7-hour kayaking day tour to the lovely Copeland Islands Marine Park or Okeover Inlet. To enhance the experience, snorkel sets are provided as well as a handheld GPS unit for geocaching during the land-based lunch break. Ideal for first-time paddlers, families with kids, or experience kayakers.